Automobiles are amazing, no matter what model, they are amazing machines.  Go back 100 years ago, give them a Geo Metro and people would have $hit a brick.  No matter what you drive, be proud of it, and treat it with respect.
Well how do I do that?  By not doing any of these terrible things to your car.
Whistle Tips
If you haven't heard, the whistles go 'WHOOOOOOO!'  And the whistles are also annoying as hell.  Nobody thinks they are cool and no girl is going to undress as you drive by because of them.  I'm sorry to break it to you, but you just sound like a douche.  If you haven't heard whistle tips, please watch this video.
Cover it in bumper stickers
Nobody cares about your kid getting honor roll, your political opinions or how many family members you have via stick figures.
"This bumper sticker really sums up how my life."
If this is how you think, instead of putting a bumper sticker on your car, how about you just cover your car in bird droppings.  At least then your car will really show people what you are.
Stick on air intakes
Fact: you can completely mod out your car from the accessory aisle at Autozone.
Fact: your car will look like a P.O.S. if you mod out your car from the accessory aisle at Autozone.
That stick on air intake you just put on your Honda won't make your V-Tec kick in any faster, bro.
Chrome paint job
Nothing about a chrome paint job is attractive.   It's about as attractive as Rosie O'Donnell in a mini skirt.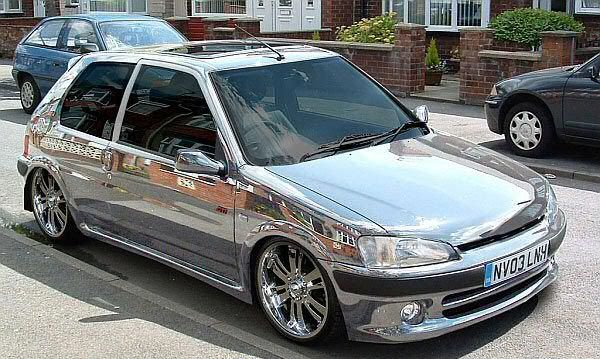 Fake badges
Nothing is funnier than seeing a car with a fake badge, except for confronting the person with the fake badge.  The excuses are usually hilarious.  The most common ones are the BMW Mpowered, Mercedes AMG, Type-R, Shelby Cobra, Audi RS, V-tec and so many more.
TVs in the trunk
Putting a TV in your trunk is about as useful as using a strainer for a soup bowl.
Video game systems in the front seats
I'm sure your bros on Call of Duty can wait a few moments for you to get home to 'pwn some nOObs'.   Playing video games while driving does not only put you and everyone else in danger, but everyone else around you.  If you really need a fix, just pull over and play your PS Vita.
Nitrous
The Fast and the Furious isn't real life, it's tough to grasp but you'll get through it.  Nitrous doesn't give you 500 extra HP and make your car shoot sweet blue flames.   What can it do?  Watch this video to find out.
Speakers outside of car
Driving in your car gives you a chance to be alone and listen to whatever embarrassing music you would like to.  You can belt out your favorite lyrics and no one in the wiser.  But what if you want everyone else to listen to your terrible music even if they don't want to?  Well you throw some speakers on the outside of your truck and wait for your douche bag of the year award.
Related Posts :